High-performance alloys and Melt Spinning
Hittech RSP Technology develops and produces Aluminum Super Alloys.
Ultra-fast cooling (1.000.000 ºC/s) "freezes" the liquid metal and creates a new super-strong alloy with a very fine and homogeneous crystal structure.
The melt-spinning production method developed by Hittech RSP Technology forms the basis for unique and superior materials that offer the ultimate solution for lightweight high-end applications in the racing, aerospace, electronics and automotive industries.
This so-called Rapid Solidification Process (RSP) offers a great alloying freedom and gives the material its special properties. The short production runs make Hittech RSP Technology the perfect partner for material production and alloy development.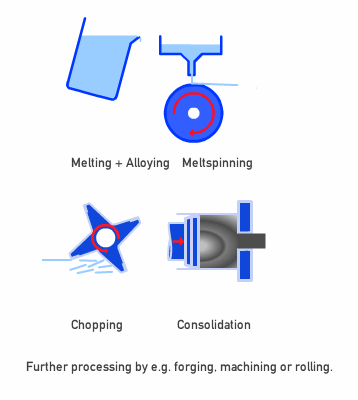 The melt-spinning process
During the melt-spinning process, liquid aluminium (800ºC) is cast onto a fast-rotating copper wheel. This almost immediately creates a continuous metal ribbon ribbon at 20ºC (room temperature); the material does, in fact, instantly "freeze" from liquid to solid. This locks in the homogeneous crystal structure of the aluminium alloy in the material.
The term 'Rapid Solidification' is derived from the sudden temperature drop of 1,000,000ºC per second when the aluminium comes into contact with the wheel.
The ribbon is cut into small pieces and formed into a workable product through a few production steps. Depending on the alloy, a special heat treatment can also be applied.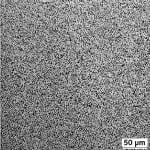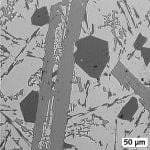 links: RSP microstructuur rechts: conventionele microstructuur
The microstructure
The various inter-metallic compounds and hard-to-dissolve components are finely and homogeneously distributed across the metal matrix, resulting in a very homogeneous microstructure. These factors contribute greatly to the higher strength of RSP alloys.
The two illustrations below show the difference in microstructure between an RSP alloy and a conventional cast aluminium alloy of identical chemical composition.
Please visit rsp-technology.com for more information